Ok guys, time for RHONY: THE SEASON FINALE.
To be candid, I did attempt to recap Bachelor in Paradise, but Ashley I. is mentally, physically, and emotionally exhausting. Also that shit is on FOUR HOURS TOTAL every week- no thanks. I also have Pretty Little Liars in my repertoire of trash television, but 80% of the time I hardly know what is going on, so I feel like those recaps would severely lack in quality.
So we are back in the hotel, Luann is immediately in sunglasses, and Bethenny is in the fetal position. COOL. WE GET IT BETHENNY YOU FEEL BAD. WE ALL FEEL BAD. At the end of the day, no matter how fucking annoying Luann is harping on about her shiny bald headed boyfriend, WE DON'T WANT TO WISH THIS ON YOU LU. WE LUV U.
We are still on the topic of Tom's incriminating makeout photos. OMG WE SEE THE EVIDENCE. I AM VERKLEMPT. Just picture an iPhone photo- WITH FLASH, of the back of Tom's DISTINCT shiny bald head sucking the face of a mystery middle aged woman. Bethenny appears to be sporting a phone case that illuminates your face when taking selfies- UNCONFIRMED. (ay bethenny u got a lumee case or what!?) ((*note to self: add bethenny on the 'gram-I bet she posts some fire selfies*))
(if it's good enough for kim k., it's good enough for me.)
Luann corrals all the girls to surround Bethenny in her bed, like the 7 dwarves and she's Snow White, passed out in her coffin.
"Why right before we're ready to leave?"- Dorinda questions Bethenny's motives in the timing of her reveal. But HONESTLY did you want to deal with this shit show the whole vacation, Dorinda? She's doing you a favor.
Ramona, wearing a bump-it, having a crying contest with Bethenny. (part one of Ramona making Luann's event about her)
Bethenny: * chugs a skinnygirl item straight out the bottle * using her lowest moments to still promote her brand- truly iconic.
I FEEL LIKE BETHENNY IS WAY SADDER THAN LUANN IS. Who died!? R E L A X. Nobody is married (yet)!
"I do love him but I can't put up with this."- I'm proud of you Luann! Keep your dignity, get ready to roast Daddy Warbucks for his infidelity, and leave Bethenny shaking & crying in her Snow White coffin, because really, she's stressing me out.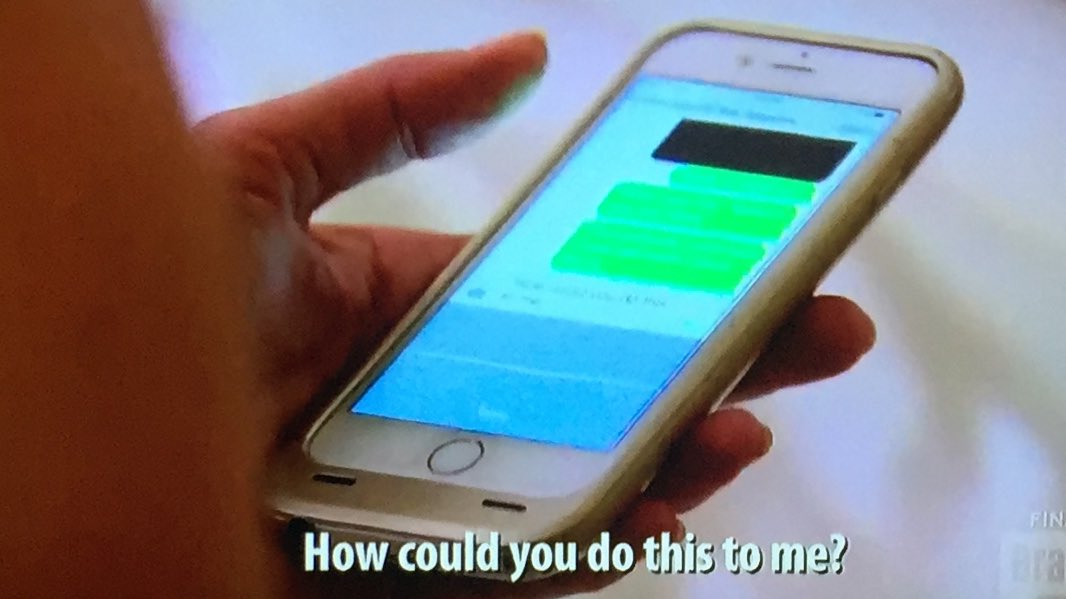 (tim cook, get luann on that Siri voice-to-text promotional tour, because she is the BEST sponsor for an iPhone 6s!!!)
Ok Luann looks fresh to death in her lace overlay top in her confessional
"How do you think I felt?"- Ramona, this WHOLE FUCKING EPISODE. THIS IS NOT ABOUT YOUUUU (part 10000 of Ramona making Luann's event about her)
We learn more about the public makeout session It went from 11:31 pm to 12:39 pm. IT STARTED AT 10:45!!!!!! God love an iPhone time stamp. If this is what NYC is full of- middle aged rich people makin out in bars- I'm gonna hard pass on relocating.
Luann storms out of the room, Bethenny takes another * sponsored * swig of SkinnyGirl.

                                          (ya don't SAAAY, bravo!?)
"It's better for you to find out than on Page Six like I did." SOMEONE THROW RAMONA OVERBOARD-ARE THEY ON A BOAT STILL!?
"Ten years with my little marshmellow, it hasn't been easy" – Jules foreshadowing her imminent divorce.
"He didn't give her an engagement ring." "I did-he loves me."- Luann, coming out of her reasonable mind and into the crazy.
RAMONA. THAT BUMP IT. I live and die for you.
So Dorinda receives a phone call from Tom once they get home from New York. Waitwaitwaitwait. So Tom is scheming a shady plan with waiters from the Regent, and they're gonna try to convince Dorinda that he didn't cheat on Luann, and if Dorinda doesn't convince the other girls of such, then she's NOT INVITED TO THE WEDDING, PER TOM!? This shit is W A C K. I fuckin hate going to (most) weddings, so don't threaten me with a good time, Tom!!
"I'm not gonna let a silly kiss ruin the rest of my life"- *cue Mr. Brightside by the Killers*
Luann is so curious as to why Bethenny knew so many details about this tryst Daddy Warbucks had- UH PROBABLY BECAUSE SHE KNEW YOU WOULDN'T BELIEVE HER SO SHE HAD TO BACK HER SHIT UP.
Okay, final scene of the ep! Yaaaas a SkinnyGirl party- wait, Luann gonna cause drama at Bethenny's work party? SHE'S GONNA M U R D E R YOU LUANN.
Ugh Bethenny called Carole's boyfriend Adam Tom Ford, and I was typing away and thought it would actually be Tom Ford. What a letdown. Adam still hot tho.
Bethenny goes on an AMAZING rant shading everyone's boyfriends, with the highlight being "Dorinda's got a sweaty dry cleaner dipped in cologne."- I AM DECEASED. BETHENNY COMIN IN WITH THE HITS.
So Sonja brings Rocco, her baked potato boyfriend to match Dorinda's baked potato boyfriend. I WILL SAY John looks slimmer and less red, but yannow, still a sweaty dry cleaner dipped in cologne.
I love watching a bunch of rich white people in NYC throw a Mexico- themed party. Basically a few piñatas, but everyone is still mostly in black.
Luann immediately runs over to Carole and Bethenny and starts to shout at them for talking shit about Tom, when 10000% they were talking about the piñata full of jewelry. Bethenny bets her $1000 about one hundred times, hoping to shake Luann out of her ridiculous accusations. We know you're super rich Luann (why else is Tom dating you AMIRITE LADIES HE'S A GOLD DIGGER) but like, can you believe them for two seconds? It's REALLY not about you I prom. I totally get that "Tom" sounds like "piñata," but ok Luann.
"Tom should have been the piñata" – COME THRU CAROLE WITH THE ZINGERS.
We then find Ramona again, bleary eyed and rambling about the downfall of her own marriage, to Luann- "Well I couldn't sleep all night because it brought up memories of what happened to me!"- RAMONA MAKING IT ABOUT HER PART ONE MILLION.
"You don't wanna be married just to be married."- that's where you're wrong, Ramona! Luann just needs a ring on her finger, even if it comes from the guy who looks like he should be adopting a charismatic redhead with a penchant for song.

Jules speaking of her & marshmallow's 8th anniversary sounds like a sad tribute to their fallen marriage. But Jules is also in an amazing white marabou shawl, so good for you, girl! Roast that marshmallow!

 (famous dj marshmello, not to be confused with jules' tiny husband Michael, also a marshmallow.)
I mostly hate whenever Jules and Bethenny talk about their eating disorders- past and present. It makes me sad how much Bethenny lashes out at Jules because of her eating habits, and I just want them both to be happy and healthy. It's sad their friendship is so nonexistent mostly because of some accusatory comments on Bethenny's part that stem all the way from Jules' debut on this season. You are both grown adults and mothers- move on!
Cut to Luann, screaming at Bethenny about staying out of her life with Tom. Don't bite the hand that feeds you, Luann! Instead of food, this hand feeds you incriminating photos of your fiancée. I understand being desperate for love and being lonely, but I also understand hanging onto your dignity, because that's all you have at the end of the day! This has turned into a Vicki Gunvalson situation- veteran housewife dating a problematic man and literally sets anyone on fire that even THINKS about criticizing said man. Don't you watch Real Housewives of Orange County, Luann!?
I also LOVE their photobooth-style recap photos, complete with plastic sombreros. Feels very sorority semi-formal.
WHAT. A. SEASON. I can't wait for the reunion- it looks like a lot of drug accusations. I'm nervous, but excited. What was your favorite part of this season? Who was secretly wasted all season? Cast your votes now!!
xo,
the trash tv princess