FINALLY after waiting with bated breath for Bethenny's dramatic hot goss about Tom, she finally reveals to Carole & Ramona the pics that were taken of the Countess's fiancé smoochin some other lady (!!!!)
Once the photos were confirmed with said ladies, it was edited to show a smug Ramona, back with Luann, UNBEKNOWNST to her the secret they were keeping from her of her playboi fiancee.
"It's all very manic!"- Bethenny- this town could literally be called Real Housewives of Manicville, between Ramona's pupils, Bethenny's gossip, and Luann. All of her.
We then go to a charcuterie plate pre-dinner situation with Bethenny, Sonja, & Ramona. Through the gossip grapevine, we learn that merely THREE. WEEKS. AFTER. Sonja boned him, Luann got with Tom- I honestly feel like I am watching an MTV dating show right now. Were Sonja & Luann's pajama parties foreshadowing some weird man sharing legacy to come? Why are so many people dating Tom!? Are you 24 years old slash in a sorority!? Did they ever talk about his dick?! These are things that keep me up at night.
What seemed like Eight. Hours. After. those three finished their cocktails and meat & cheese plates, Carole, Dorinda, and Luann arrive to dinner- MUCH TO Bethenny's dismay. Bethenny was being a typical queen bee and making her minion Ramona save her a seat next to the desirables (not Jules) at the dinner table and yelling at her old minion Carole for being late to dinner- OH HOW THE TABLES HAVE TURNED.
"Where's Tom tonight?"
"He's with his mother…or his friends…I don't get jealous…" – truly a poignant exchange. K JUST BETWEEN US GIRLS when I'm jealous I totally sound just like this Lulu girl.
"Once I get moody, it's hard for me to get out of it"- YOU DON'T SAY, BETHENNY. The queen bee has returned to her nest with Sonja & puts her pjs on, while the other ladies hit the town.
So to set the scene, Bethenny is now hitting up Tom (!!!!) whilst posted up in bed, and Luann is in da klerb in yellow sequins, also hitting up Tom. Either this is amazing editing, or Luann and Bethenny are SIMULTANEOUSLY CALLING TOM. Who's gonna catch his voicemail!? Does Luann know any synonyms to "cool'?! Does Tom have call waiting? Does Tom not text!?

ay tom. y u no answer ya phone?!
They've also been ADAMANT in mentioning their sandbar adventure repeatedly- they've said the word sandbar about 800 times, and if this was a drinking game I might be dead. Or throwing up.
Sonja is still sad Tom didn't hold their relationship with as much esteem as she did: WELL NOW HE'S SMOOCHING A THIRD GIRL, and also told Ramona she smelled like grapefruit in the last episode, so I don't know what to tell you, Sonj.
Cut to Ramona rollin in, full makeup from last night. "Sorry not going to the sandbar- I'm resting!"- Ramona, as she touches up her makeup and goes out to troll for some daytime dick.
COMING UP NEXT: pop star Luann gets recognized, and again uses any opportunity to remind everyone she speaks French.
"Throw on another macramé dress, put on another thong"- Dorinda has become the queen of shading Ramona and her slutty phase- hi.la.rious.
"THEY KNOW MY SONNNG!!" – either that was a boat full of sorority girls, my friends, or a boat full of gay boys. Regardless, they sound like great people.
"I didn't want an open marriage, but that was the way it was"- a sad look into Luann's former marriage. That's probably the realest moment from Luann all season- once we put aside her manic relationship/obsession with Tom, we finally see a little bit of humanity from Luann. Now there's a little bit of reasoning behind how QUICK Luann was to commit her life to Tom. That is truly chic c'est la vie. (or triste, n'est-ce pas?)
Sonja in her tiara is giving me LIFE. Truly a living legend. Slash, pretty sure Sonja will be me at that age, so I look forward to it.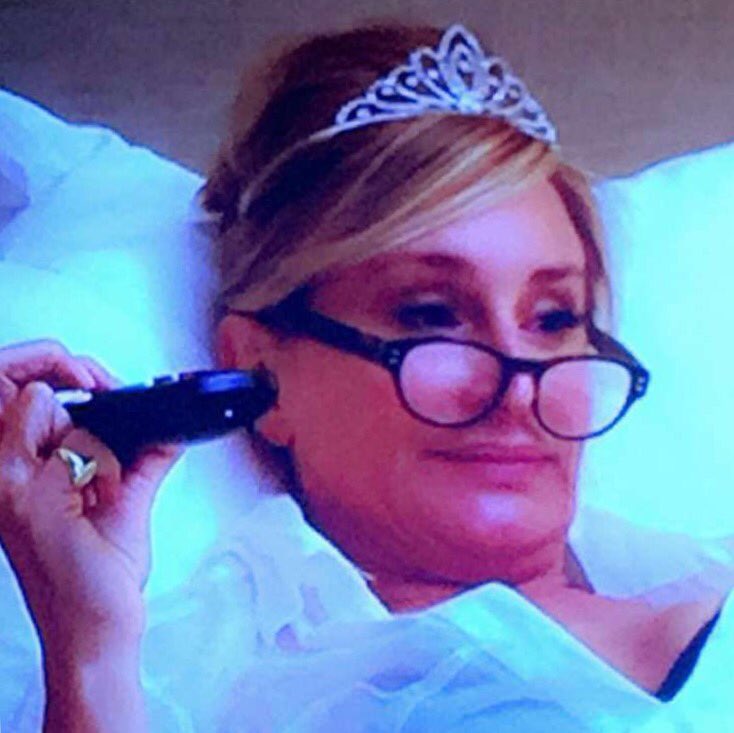 Luann about Romano, Bethenny's rando artist friend from Miami: "Apparently he's an amazing artist, and he's wearing his pajamas" lololol
"I don't need to see you dance around again and pick up men"- k Dorinda is hella pissed that Ramona didn't go to the sandbar (mention 1000) with them. Ramona is clearly on another level that involves cruising for the d 24/7, which I GET. It's like going to Vegas with all your friends who have boyfriends that just wanna "go out to dinner" or "see Britney Spears," and you're like L I S T E N I'm here to meet my Australian lover of just one night at DA KLERB (true story), so LET ME LIVE!!! I GET IT RAMONA.
OMG TWO MINS BEFORE THE EPISODE ENDS. BETHENNY & LUANN IN TEARS. LUANN BREAKING THE FOURTH WALL BY ASKING THE CAMERA TO STOP FILMING, LEANNE STYLE. THESE PHOTO HAVE NOT EVEN BEEN SEEN. TO. BE. CONTINUED. (wtf why is Ramona crying in this preview for next week!? This shit is not about you b!)
ANDY COHEN DOING ME DIRTY!!!! (I love you so much)
TLDR;
Dorinda slut-shames Ramona/drags her macramé fashion choices, Luann didn't wanted her former marriage to be an open relationship, Bethenny hates people that are late to dinner, we ALMOST BUT DON'T SEE THE TOM PICS & LUANN IS ALREADY CRYIN. We also didn't get to this convo until 9:58 when the show ends at 10. Bravo, I wish you didn't own my soul BUT U DO. Goodnight.